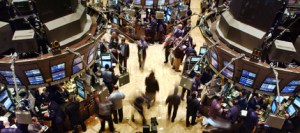 Whew. Glad that's done with. No more worries about rising interest rates or higher bond yields. No more fretting over lower earnings and revenue guidance for the fourth quarter and 2024. No more nightmares about a wider Middle East war. Or a government shutdown on November 17. Or…
Well, you get the idea.
I don't think any of these things are behind us. The rally of the last day and a half–I'm writing this at 1 p.m. Nw work time on Thursday–is a product of a little bit of possible good news from the Fed and from the U.S. Treasury (on a small reduction in the size of the next Treasury auction) and a temporarily oversold market resulting from a lot of bad days in a row. I'm not saying this is just a dead cat bounce (you know the image–even dead cats bounce, but they don't bounce far). Good news from Apple (AAPL) on earning and revenue after the close today. And tomorrow's jobs report for October could be weak enough to keep the "Fed is done" narrative going without being so weak that it resurrects fears of an economic slowdown.